About Verra Makelaars
We proudly introduce Verra Makelaars. The trusted real estate agent in the South Holland area for (international) homeowners and home seekers in the region. We distinguish ourselves through our extensive experience with an international target group on the Dutch market. We know better than anyone what this target group is looking for and wants. Naturally, we take a personal approach to every issue and pay real attention to our clients and their needs. No automated emails or questionnaires, but a personal call to the colleague at our office who can help you best.
Contact us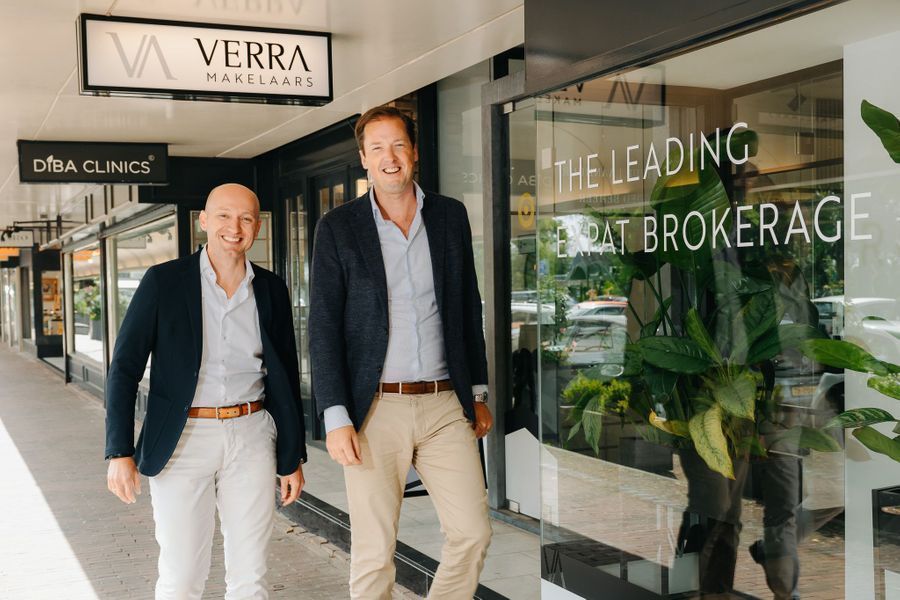 Renting, letting, managing, buying or selling a property is an ambitious task to do. Our approach is based on years of experience in the market and the personal wishes of each of our clients. With our offices in Rotterdam and The Hague, we are one of the largest real estate agencies in the South Holland province, but you will always find the same trusted team when you reach out. Our real estate agents are the experts in serving an international clientele. We understand the wishes and concerns of expats moving to the Netherlands and offer the services and housing they require. We are more than happy to answer questions such as where the nearest tram stop or international school for the children is located. This is part of what we do best. We not only help expats find a home, but we also enable homeowners to find a reliable (international) tenant or buyer. We relieve property owners of any worries by taking the paperwork off their hands and preparing the property for rental or sale to a broad target group. Our colleagues are at your service when it comes to legal, administrative and constructional matters, as well as answering all your questions at any given time.
Find us anywhere
Our offices
With our two offices in the popular and prestigious Statenkwartier district of The Hague and in the bustling city center of Rotterdam, Verra Makelaars operates in a large region. Our estate agents know the neighborhoods and districts like the back of their hand and have all the necessary local knowledge.
Happy clients
What they say about us
Steffen, Ashley en Niek hebben ons goed begeleid tijdens het verkoopproces van mijn woning. Alles werd duidelijk uitgelegd waardoor ik van alles op de hoogte was. Toen mijn woning online kwam, was de markt net aan het veranderen wat het wat spannender maakten. Uiteindelijk is mijn woning toch nog snel en goed verkocht waar ik super blij mee ben! Heel erg bedankt voor de goede service en ik zou mijn huis volgende keer weer door jullie laten verkopen!
Being new to the country, we (me and my wife) defintely were no accustomed to the purchase process of properties in NL. Niek from Verra Makelaars was extremely helpful by guiding us carefully through out the process. Although timelines were a challanege but Niek really perservered in finding us a home quickly. Excellent service!
I was unable to easily view houses due to work restrictions. Niek at Verra was able to work miracles around my very restrictive schedule. Not only did he offer to view on my behalf, but he was able to get appointments outside of the scheduled appointment. He was flexible, took the time to understand my needs and was able to provide solid advice on the final bidding process.
Iwan Post van Verra heeft ons goed geholpen met het bezichtigen en beoordelen van verschillende panden. Zijn inzichten over ieder pand waren erg behulpzaam om te oordelen of de locatie, prijs en staat van het pand in orde waren. Uiteindelijk voor deze woning gekozen waar nog veel werk aan verricht moest worden, maar Iwan heeft geholpen om daar ook een gepaste prijs voor te bieden waardoor we genoeg budget overhielden voor de verbouwing.
We had two goals with respect to the sale of our house: to sell it within a reasonable amount of time and to sell it for a good price. Both goals were met by having Niek and his team as the selling agent! They worked closely with us, answered our questions, and used their network, knowledge and experience to sell our house. We highly recommend them!
Please contact our offices. Besides being professional, we also take great pride in being friendly!