Selling
Selling a home is a complex matter that requires a tailor made approach and a smart strategy. Are you looking for a new home yourself, are you moving abroad or do you have any other reason for selling? Our sales agents offer tailor-made guidance and advice for the sale of your home.
Make an appointment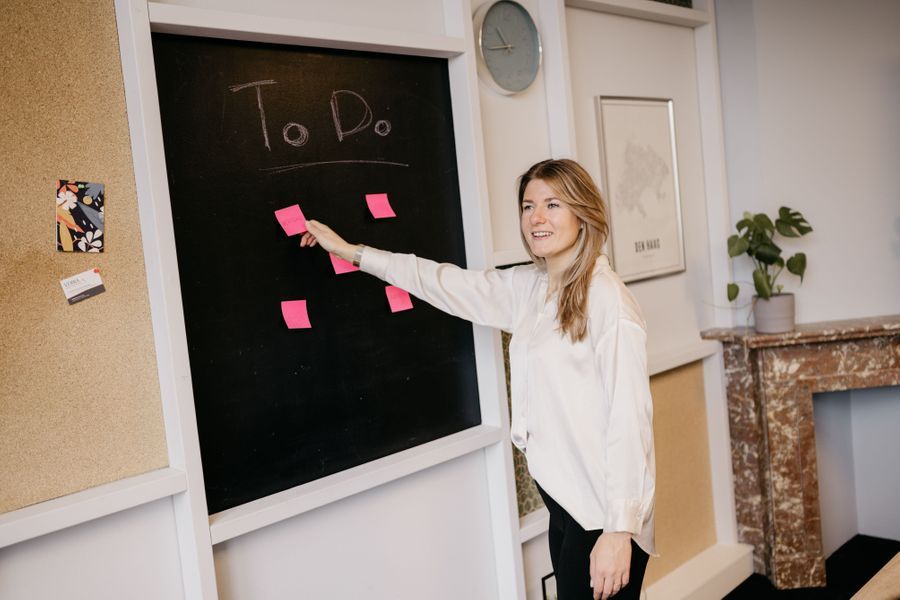 Selling a home
With a real estate agent from Verra Makelaars, you will have no worries or doubts throughout the whole sales process. One of our unique selling points is our marketing strategy: we believe that the presentation of the property is very important. Moreover, our strong positioning and expertise within the expat segment will allow us to easily appeal to that target group of potential buyers. The marketing of your property will be fully tailored to this international target group. We work with interior stylists, and we will provide advice on minor enhancements to the property like which color to paint that wall or how to change the layout of the furniture to give the best possible impression of the space. We believe that anyone can sell a property, but Verra Makelaars is happy to put in the extra hours for maximum results. We provide a professional presentation on all known national and international channels, process additional documents and correspondence in two languages and your property will be distributed within the network of fellow agents and major international companies who are looking for suitable housing for expats in the Netherlands. Throughout the entire process, your real estate agent and assigned commercial team are on standby for questions and consultation. Comprehensible agreements and personal attention, that is what you can count on with Verra Makelaars.
Selling a property in nine steps
The sales process
Introduction
We start with an introductory meeting with your selling agent. We will discuss the possibilities, your current situation and answer your questions.
The sales assignment
We offer our approach on how to present the property and draw up a tailor-made sales plan for the asking price, marketing, lead time and potential proceeds.
Presentation
The presentation of your home consists of a professional set of photographs, floor plans and an extensive brochure of the house. With these media, we reach and spark interest with the right target group.
Viewings
Viewings are scheduled in consultation and always take place under the supervision of your sales agent. Interested parties are given the time they need to take a good look at the house.
Negotiations
When we receive any offers on the house, we discuss a strategy with you before conducting negotiations with the interested party on your behalf. Bids and responses are always discussed with you.
The sales contract
We collect the buyer's information, check it and prepare the sales agreement and related documents in two languages. Before you sign it, we review it for any ambiguities.
Inspection and the keys
At the final inspection, we provide a comprehensive report with photos and a reading of the water meter. We then accompany you to the notary for the transfer of the key. Your house is officially sold.
Aftercare
Your real estate agent is always available for questions and practical matters. Even after the transfer.
Moving out
Do you have your eye on a new home, are you moving abroad or do you want to buy a new development home? Whatever your wishes are, please contact us.
Happy clients
What they say about us
We had good service from Verra. They were responsive and informative. The sale went through quickly and efficiently.
Wij hebben een goede ervaring met VERRA bij de verhuur van onze woning. Het team is vriendelijk en professioneel waarbij rekening wordt gehouden met de wensen van de klant. De medewerkers van het kantoor zijn goed te bereiken, zowel telefonisch als per mail, en vragen worden vlot en volledig beantwoord.
Being new to the country, we (me and my wife) defintely were no accustomed to the purchase process of properties in NL. Niek from Verra Makelaars was extremely helpful by guiding us carefully through out the process. Although timelines were a challanege but Niek really perservered in finding us a home quickly. Excellent service!
I was unable to easily view houses due to work restrictions. Niek at Verra was able to work miracles around my very restrictive schedule. Not only did he offer to view on my behalf, but he was able to get appointments outside of the scheduled appointment. He was flexible, took the time to understand my needs and was able to provide solid advice on the final bidding process.
Iwan Post van Verra heeft ons goed geholpen met het bezichtigen en beoordelen van verschillende panden. Zijn inzichten over ieder pand waren erg behulpzaam om te oordelen of de locatie, prijs en staat van het pand in orde waren. Uiteindelijk voor deze woning gekozen waar nog veel werk aan verricht moest worden, maar Iwan heeft geholpen om daar ook een gepaste prijs voor te bieden waardoor we genoeg budget overhielden voor de verbouwing.
Your real estate specialist
About Verra Makelaars
Since 2008, the teams at Verra Makelaars have been a staple on the housing market of Rotterdam, The Hague and surrounding areas. Our real estate agents are experienced in the Dutch housing market, but also offer the necessary handles to expats and families who come from all over the world to major cities like Rotterdam or The Hague for work. At both offices, you will find highly educated and experienced colleagues who are completely at home in their working area. They offer you the knowledge and experience that are relevant to your situation and use this to map out the route to a successful and stress-free sale, purchase, rental or lease. Above all, you will always meet the same team of estate agents and office staff throughout the process. You are not a number, but a valued client for whom we will go through fire to make your wishes become reality.
Contact us
Read more
Find us anywhere
Our offices
With our two offices in the popular and prestigious Statenkwartier district of The Hague and in the bustling city center of Rotterdam, Verra Real Estate operates in a large region. Our estate agents know the neighborhoods and districts like the back of their hand and have all the necessary local knowledge.
Please contact our offices. Besides being professional, we also take great pride in being friendly!